M-153 (FORD ROAD) CONSTRUCTION

Sheldon Road to I-275 and the M-153 (Ford Road)/Haggerty Intersection

M-153 (FORD ROAD) CONSTRUCTION

Sheldon Road to I-275 and the M-153 (Ford Road)/Haggerty Intersection

M-153 (FORD ROAD) CONSTRUCTION

Sheldon Road to I-275 and the M-153 (Ford Road)/Haggerty Intersection

M-153 (FORD ROAD) CONSTRUCTION

Sheldon Road to I-275 and the M-153 (Ford Road)/Haggerty Intersection
Sheldon Road to I-275 and the M-153 (Ford Road) & Haggerty Intersection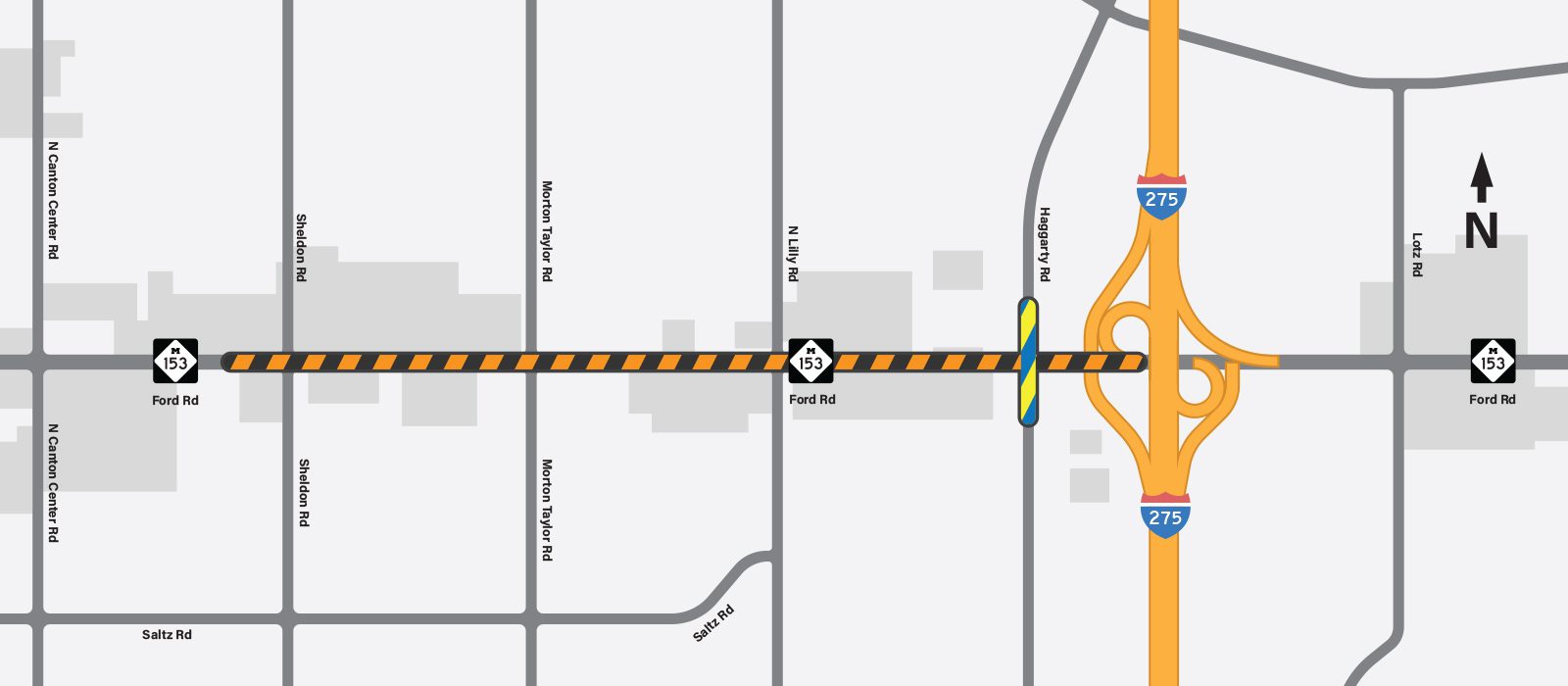 Sheldon Road to I-275 and the M-153 (Ford Road)/Haggerty Intersection
2024: Haggerty Road construction and temporary widening along M-153 (Ford Road)
2025: M-153 (Ford Road) construction
Construction and Traffic Updates
For more information about the M-153 (Ford Road) Project, contact::
MDOT Project Manager: Adam Penzenstadler, PE
P: (313) 375-2400
E: MDOT-MetroTaylorTSC@michigan.gov
Business access at all times
Click on the map tp view larger image.
Business access at all times
Click on the map to view larger image.
CANTON TOWNSHIP, Mich. ¬- The Michigan Department of Transportation (MDOT) is hosting a public meeting to discuss an overview of a planned M-153 (Ford Road) project. MDOT, Wayne County and Canton Township are partnering up to rebuild M-153 (Ford Road) between Sheldon Road and I-275, including boulevards to eliminate left turns.
Who:
MDOT representatives
Wayne County representatives
Canton Township representatives
Residents
Business owners
Community leaders
Media
When:
5 - 7 p.m.
Tuesday, April 26, 2022
There will be scheduled presentations at 5 and 6 p.m. to hear more about the project plans, ask questions, and provide feedback.