Sheldon Road to I-275 and the M-153 (Ford Road) & Haggerty Intersection
2024: Haggerty Road construction and temporary widening along M-153 (Ford Road)
2025: M-153 (Ford Road) construction
Crashes at several intersections on Ford Road exceed the Michigan average by as much as 186% in some cases. During peak driving times, this heavily travelled road registers some 40,000+ vehicles, entering and exiting businesses along the corridor. All of this activity creates potential conflict points that lead to crashes and significant travel delays. Highlights of analyzed data for the three-year period from July 1, 2016 to July 1, 2019, at several intersections, roadway segments and ramps can be seen in the chart. Reconstruction of Ford Road will remedy these issues through a roadway design that will increase safety and traffic flow. To review the complete report on crash data, click here.
M-53 (Ford Road)
Entering
Average Daily Total
Crash Rate
Intersections With Signals (West to East)
Rate
Average
Over Average
@ Canton Center Road
46,250
3.26
1.14
186%
@ Sheldon Road
40,650
2.99
1.14
162%
@ Morton Taylor Road
34,810
1.34
1.07
25%
@ Lilley Road
45,790
4.13
1.14
262%
@ Haggerty Road
58,500
3.20
1.35
137%
@ Lotz Road
40,900
1.99
1.14
74%
Intersections Without Signals (West to East)
Rate
Average
Over Average
@ Panera Bread/BWW
driveway
35,570
0.36
0.27
33%
(1) Source: Southeast Michigan Council of Governments (SEMCOG), January 2016.
To mitigate the crash issues and reduce congestion, the Michigan Department of Transportation (MDOT) will reconstruct this 2.27 mile section of M-153 (Ford Road). When completed, the new road will improve safety and provide safer access to businesses through these improvements:
Eastbound and westbound M-153 (Ford Road) traffic will be separated by a boulevard with at least two through lanes in each direction
The center turn lane will be eliminated and crossovers will be added. There will be NO LEFT TURNS ALLOWED.
Several dedicated passenger vehicle/truck turnarounds will be added
Traffic signals will be added
Continuous ADA-certified sidewalks will be constructed on both sides of the road.
Site preparation is underway and it is anticipated that construction will start in early 2024.
Benefits to the Community
Improved safety and traffic flow along M-153 (Ford Road)
Safer access to businesses
Improved safety and traffic flow at intersections
Sidewalks designed for visual impact, personal mobility safety and overall pedestrian safety
In 2012, the Project Partners hosted their first public meeting for the Canton Twp community to make the case for safety improvements on M-153 (Ford Road). The Traffic and Environmental Study highlighted crash data, noise and other factors in the area bordered by Sheldon, Warren, Lotz, and Cherry Hill roads. The study, road design alternatives and comments from all four public meetings can be found here.

Existing Ford Rd Cross Section (Red, Above) (Facing East) Two Through Lanes Shown, Additional Throw Lane East of Lilley Road

Proposed Ford Road Cross Section (Green, Above) (Facing East) Two Through Lanes Shown, Additional Through Lane East of Lilley Road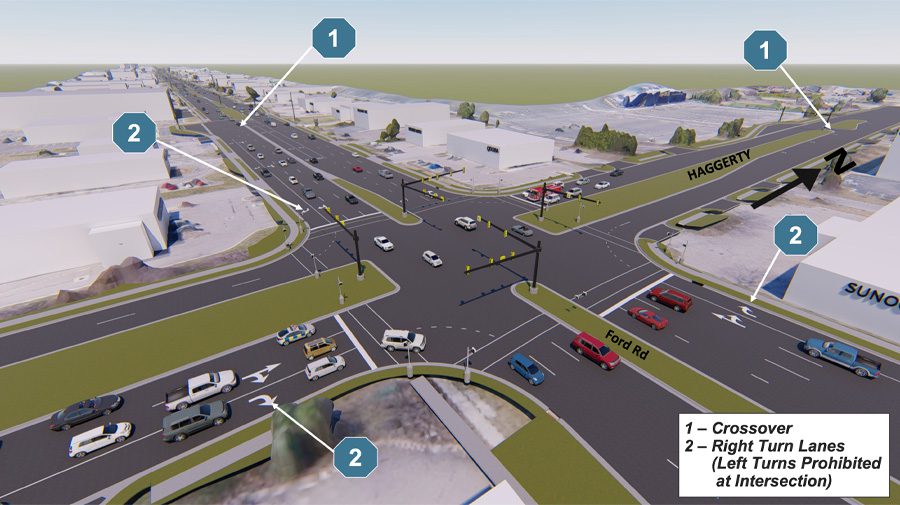 Boulevard Design Features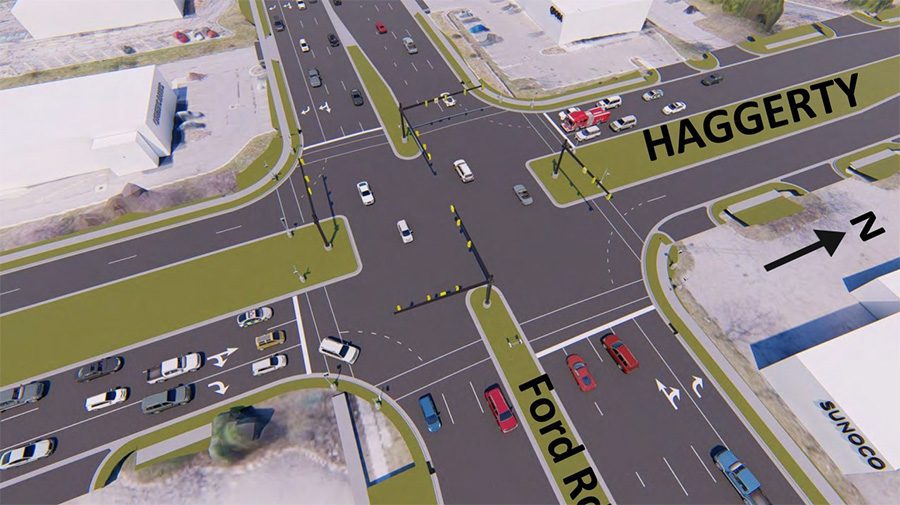 M-153 (Ford Road) & Haggarty Road Intersection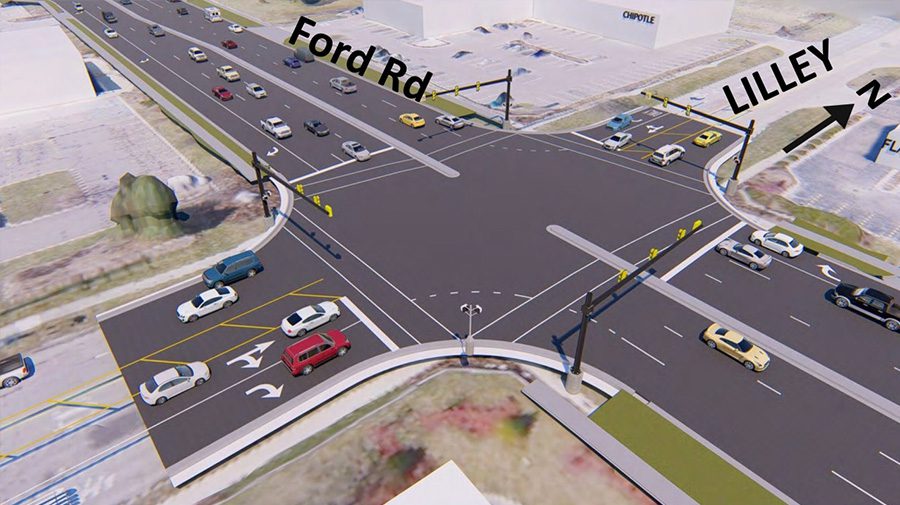 M-153 (Ford Road) & Lilley Intersection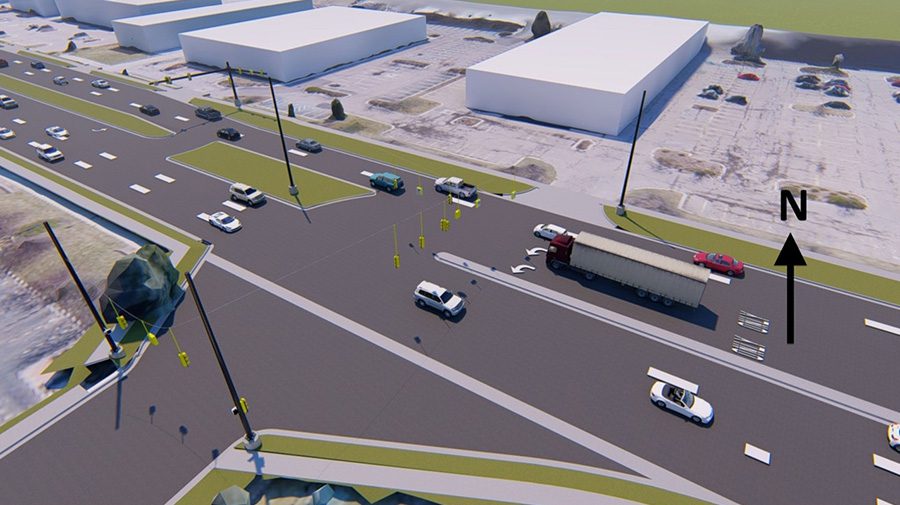 M-153 (Ford Road) Crossover East of Lilley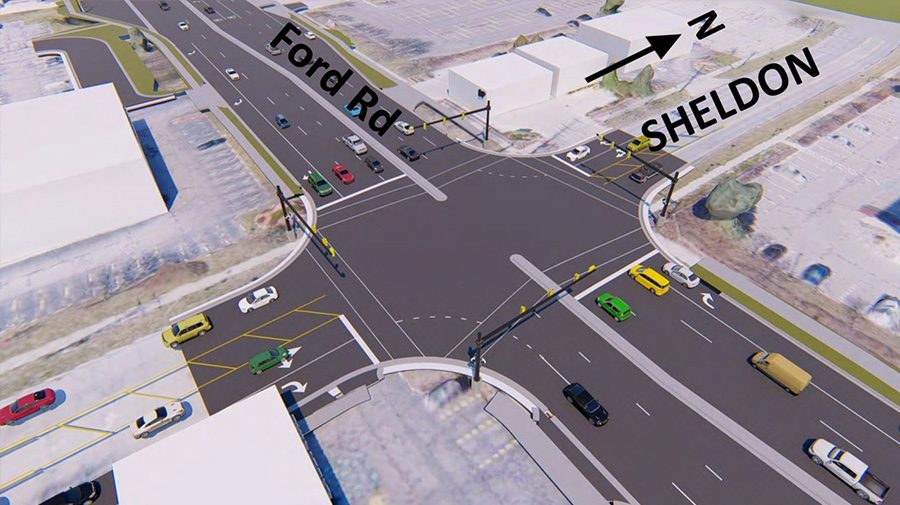 M-153 (Ford Road) & Sheldon Intersection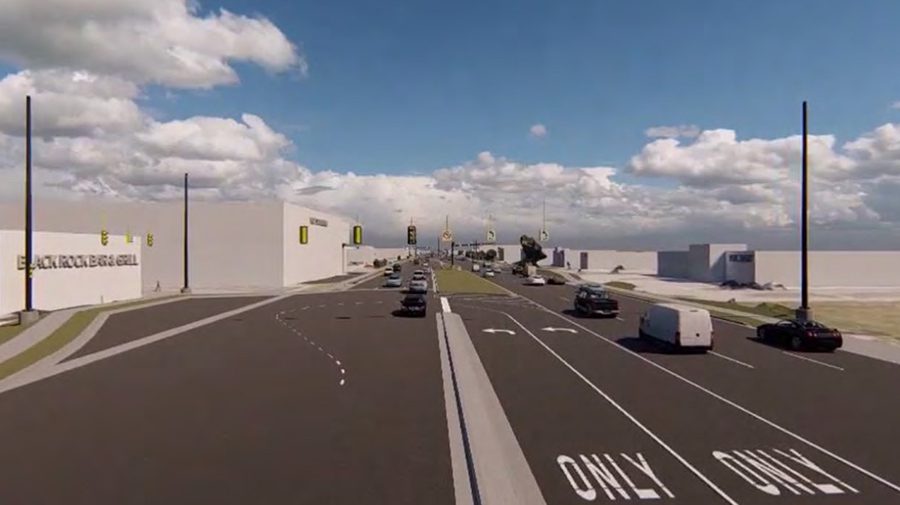 M-153 (Ford Road) Dual Lane Crossover